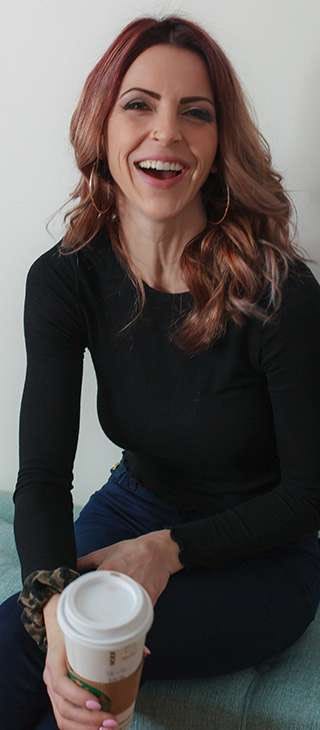 Jessica is a born and raised Londoner who has always had a desire to help others and create happy memories and interactions for people. She is part of a family who are big on helping others. She graduated College with an Executive Administration diploma in 2006 where she did varying degrees of Administration roles including Management, Property Management, Recruiting and Event Coordinating.
Going through the experience of dealing with people her whole career, she decided it was time to use her skills in business; coupled with her desire to make others happy and made the decision she wanted to create her own business.  After she healed from a concussion that limited her from doing many things, Crave Lash Lounge was born. She wanted her customers to feel a sense of calmness after leaving. We all need downtime to reset our batteries and feel good about ourselves inside and outside. Her main goal was to create a space where women felt empowered and comfortable.  She carries a line of Organic Skincare and is focused on using natural products for her clients as much as possible. She has also raised awareness on overcoming hurdles and tackling ptsd on our local London, Ontario Rogers Television Program
"Her Stories"(link

to full video).
  Jessica continually strives to create a sense of community and aims to help others.  One client even said she felt like family the first time she came and that is exactly what she strives towards.  She has added some awesome
services
throughout the years including lash lift and tint, eyelash extensions sugaring, waxing, and loves precision brow shaping through waxing/sugaring, tinting, trimming and tweezing.  She has also added a training element to her business and now offers a Lash Lift & Tint Certification.  She is continually working on creating positivity and loves what she does!  Jessica is very thankful for the support from her clients, friends and family and is excited for another year of business!
Check out our latest customer reviews!
amazing! I wish that more women realized that helping other women, cheering them on, helping & supporting doesn't take away from their own success but helps us all learn and succeed. My first visit with Jess she felt like a friend I'd had for years joking and telling stories, She also did an amazing job on my eyebrows I will never let anyone else touch them. Never underestimate the power of a good brow! 🙂
Loved my experience at Blue Ash Beauty Bar!! Jessica was super welcoming and friendly and makes the experience very enjoyable. She does a great job at what she does and ensures excellent results. The overall environment is super comfortable and cozy and a great place to be pampered!! I had by lashes lifted by Jessica and I could not be happier with both the results and my overall experience. Blue Ash Beauty Bar is my new go to and would recommend them to all!
Jessica is great at everything she does!!! My brows looks amazing when she was done! My spray tan was on point! And my lash...just wow. She creates a great relaxing atmosphere while you are there and very professional!